Preparing fresh salads - the only way is the original OXO way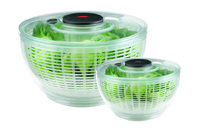 Used by celebrity chefs all over the world, including the much-loved Mr Oliver, OXO's salad spinner is an essential piece of kitchen equipment that no salad lover will ever want to be without.
With an unrivalled ability to combine comfort and ease of use with the ultimate in practicality, this original salad spinner is testament to OXO's universal design approach, making everyday living that little bit easier.
Designed so that it can be operated with just one hand, all it takes is a few pushes with the pop-up handle to spin salad leaves dry in no time at all. The simple push button break mechanism brings the spinning to a quick halt, while the non-slip base ensures that the spinner stays put and doesn't shuffle along your worktop. Plus, the removable plastic basket doubles up as a colander to wash your greens.
Once the salad leaves are dry and the remaining water drained, use the outer bowl as a serving bowl or store the salad in the fridge until it's ready to be eaten. OXO's iconic salad spinner is also ideal for drying other salad produce such as tomatoes, radishes, herbs and berries.
Alternatively, use OXO's little herb & salad spinner, perfect for hand picked leaves and herbs.
From leafy romaine to delicate mâche and crisp baby gems, OXO's NEW lettuce knife cuts through a variety of lettuce with minimal effort. Its clear plastic serrated blade protects the lettuce from bruising or browning, preserving the flavour and appearance of those precious green leaves, while OXO's trademark soft-grip, non-slip handle makes it a comfort to use.
If you're feeling a little more indulgent, OXO's NEW lettuce knife also comes in handy for cutting delicious desserts like cakes or brownies in non-stick baking tins.
OXO's salad spinners and lettuce knife are all top rack dishwasher safe for easy everyday living.
Prices:
Salad spinner: £25.53
Little salad & herb spinner: £18.38
Lettuce knife: £6.13
Designed to make everyday living that little bit easier, the OXO Good Grips range offers over 200 stylish, yet practical tools for the home including kitchenware, organisational tools, bathroom and cleaning products. The company has also now extended into the nursery with the launch of OXO Tot, an exciting new design-led collection of baby equipment including essential feeding and weaning tools in three bright colours, handy cleaning tools and a super stylish, ultra functional highchair.
The OXO range is widely available from a selection of national retailers. For stockist details visit oxo-uk.com.