Fair pricing equals full berths at Gibraltar's Ocean Village Marina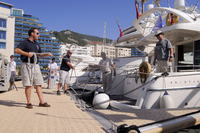 Since official launch in May 2010, Ocean Village's ambitious new Premier Berths have been very much in demand. At their one-year anniversary, occupancy is between an incredible 70 to 80% on a day-to-day basis, even higher in peak periods, and for that Ocean Village can credit its keen pricing strategy with a maximum of £4 a metre charged per day for even the largest of megayachts.
Brian Stevendale, Business and Development Director for award-winning Ocean Village, explains, "Our Premier Berths are indeed a success story. Surrounding marinas, especially across into Spain, are struggling to find occupancy and being forced into slashing prices but we had the strategy right from day one. Not only are our berths good value, especially if you're used to superyacht prices in Italian marinas, but they're also aesthetically attractive with a wealth of services on-hand from 24 hour patrolled security to broadband wifi. As demand from larger yachts soars, our plan is to construct yet more Premier Berths to satisfy this need. We certainly have the space as neighbouring 209-berth Marina Bay also falls under Ocean Village ownership."
The Premier Berths range between 12m and 90m in length taking Ocean Village's capacity from 225 to 323. True World Top 100 Megayachts can be accommodated on a temporary basis as they stop to charge their tanks and they will find Ocean Village's prices to be pleasantly surprising. A recent survey showed Italy's Capri topping the pricing tables with a 55m charged 2,585 euros per day in high season. Spain's very own Puerto Banús, just 60km up the coast from Gibraltar, came in fourth at 2,069 euros. Gibraltar's Ocean Village is pitched at just £220 a day for that same 55m megayacht – around 250 euros or a massive ten times cheaper than Capri.
There is also a trend for yachts to eye Gibraltar for more than just an 'in transit' visit. As a Port of Registry, Gibraltar is efficient, friendly, has no restrictions on size or tonnage and offers Cat 1 Red Ensign Group status. And, despite full EU membership, it throws up some advantageous opportunities relating to tax.

Gibraltar's marine fuel is tax-free and the cheapest in Europe slicing around 40% off refuelling costs in neighbouring Spain – little wonder it's the most important ship refuelling point in the Mediterranean knocking Athens into the number two spot. Captains and owners can reequip their yacht, buying goods VAT-free, and have them shipped to the Rock where there's no import duty if destined for a yacht in transit. Additionally, crews particularly enjoy stocking up on familiar provisions in Gibraltar's Morrison's superstore – the busiest in the entire chain.

Geographically, Gibraltar makes sense as a stopover between the Mediterranean and the Atlantic. Most megayachts do the 'milk run' between the Med in the summer and the Caribbean in the winter with Gibraltar acting as the gateway. It's also an idyllic base for exploring the marinas and beaches that populate the North African, Spanish and Portuguese coastlines bathed in wonderful year-round sunshine. Ocean Village stands out as the most sheltered marina in Gibraltar, a vital consideration for megabucks megayachts, and offers sublime close-up views of Africa some 14km across the Straits. It also hosts an array of bars, restaurants, boutiques and Gibraltar's only casino.
Daily rates for Ocean Village's new berths start from as little as £10.00 per day for up to 12m. A 20% discount is available for annual bookings when paid in advance in full. Occupiers of Premier Berths will also receive an 'Ocean Village Privilege Card' offering crews concessions in certain stores, eateries, the Health Club and more to reward them for their loyalty.
For further information on berths at Ocean Village, visit gibraltarberths.com.