Introducing the new Proferia bed from Hästens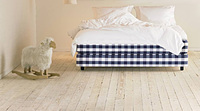 This spring, Hästens King Road is unveiling the new Proferia bed - the first new model of the Continental Collection to be launched in 2011.
The Proferia offers supreme natural comfort for the very best night's sleep and is available from the Hästens King's Road and Crawford Street showrooms from late March.
There are many advantages of sleeping in a bed crafted from entirely natural materials.
Hästens Sleep Expert Brent Cooper says beds made from natural materials are not only more comfortable than alternative materials, but also help to regulate a person's body temperature which helps them to enjoy undisturbed, restorative sleep.
Hästens beds are handcrafted from hypoallergenic horsehair, natural flax and hardy slow growing Swedish pine resulting is superlative comfort and durability. The Proferia's 10 individual layers of cotton and wool are supported by a patented pocket spring system mattress as well as two sets of patented Bonell springs in the bed's base to absorb energy and movement; working with the body's contours and posture to give the required level of support.
Since 1852 Hästens has invested time and dedication to create the world's best beds. In advocating the best nature has to offer and traditional hand-craftsmanship they guarantee a quality of sleep that a machine cannot reproduce.
Complimentary sleep consultations are available from the King's Road and Crawford Street showrooms - which display every model of Hästens bed at every available tension.
For more information, visit hastenswestend.com.