Vi-Spring voted 'Best Mattress Brand' by Which? members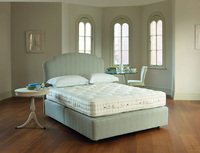 Vi-Spring, creator of the finest luxury handmade beds, has been named the best and most comfortable mattress brand by members of the UK's largest consumer body, Which? In their biggest ever customer survey, Vi-Spring secured the top spot with a satisfaction score of 86 per cent.
Offering uncompromising levels of comfort and luxury, Vi-Spring tailor-makes each bed to customer's individual requirements. Its new 'Natural Luxury' range takes this commitment to new heights, using the very best natural and sustainable materials. From blended cotton and finest Shetland Isle fleece wool, to mohair and silk, Vi-Spring crafts each bed, filling it with pure luxury. Headboards and divans can also be upholstered in a choice of more than 100 different fabrics; from simple neutrals to bold statement prints.
To locate your nearest Vi-Spring specialist or for a brochure, visit vispring.co.uk.