Vi-Spring creates its biggest ever bed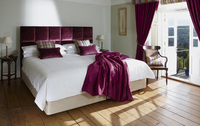 Vi-Spring has designed and created a hugely luxurious bed, exclusively for The Horn of Plenty Country House Hotel, situated on the edge of scenic Dartmoor. The 8ftx8ft bed, named the Plentiful is dressed with bespoke, naturally hypo-allergenic woollen duvets and pillows handcrafted by Devon Duvets.
Drawing inspiration from the inherently rich local country-side, where Vi-Spring, Devon Duvets and The Horn of Plenty are situated, the three companies are committed to using only the very best materials and ingredients to ensure the highest standards of quality and comfort and a blissful night's sleep.
Vi-Spring natural design
Each and every Vi-Spring is lovingly made by hand in the Devon workshop by skilled craftsmen. Using only the finest natural materials, Vi-Spring has crafted the sumptuously soft Plentiful mattress using pure blended British fleece wool, cotton and loose long-stranded horsehair. The tailored headboard is covered with Harlequin boutique velvet in deep red and the divan in rich sand faux suede.
Devon Duvets bespoke bedding
Dressed with handmade bespoke bedding from Devon Duvets, each pillow and the duvet is filled with 100 per cent pure British wool. The wool is sustainably sourced from special breeds of sheep, perfect for creating supremely comfortable bedding.
The ultimate night's sleep at The Horn of Plenty
The award-winning Horn of Plenty values the importance of sleep and extends the Vi-Spring experience to all guests. Dark skies, peaceful surroundings and beautifully comfortable Vi-Spring beds in each of the luxurious rooms provide the ultimate environment for a good night's sleep. This theme of fine quality is reflected in every aspect of the Hotel, from its fine-dining restaurant to its friendly, warm welcome.
For more information, visit vispring.co.uk.