Tips to stay cool on summer nights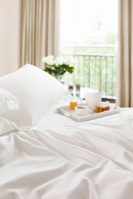 If we believe what were told, then we're in for a hot summer. The sales for air conditioning units are set to be good. However, before you rush to make an impulse buy take a look at The Best Bed in the World's more economical steps, which will help keep you cool on warm summer nights.
1. Avoid coloured or polyester mix bed linen, both leave you feeling even hotter as the fabric isn't able to breathe.
2. Do you really need a duvet? Try sleeping with just a sheet.
3. Invest in 100% plain white cotten bed linen.
4. The maximum thread-count worth considering for your bed linen is 600T, but this isn't a good option for summer sleeping. 600T is extremely dense cloth because so many threads are packed into a small space. This thread count is very warm to sleep under as it doesn't let the air through.
5. 400T is the optimum thread-count for enabling the fabric to breathe, leaving you to have a restful night's sleep.
This summer, make sure you get a good night's rest - and enjoy a 15% discount on The Best Bed Linen in the World's single-ply yarn, 100% cotton bed linen. By making it lighter it is more breathable than most other high thread-counts on the market. All shoppers can secure a cool night's sleep by visiting thebestbedlinenintheworld.com and typing in the code COOL15 into the shopping basket and click RECALCULATE 15% discount will then be applied to the order.
This fast growing and celebrated supplier uses only the finest materials and processes. The Best Bed Linen in the World has worked with the top five-star hotels in the UK and globally for over 20 years; including The infamous Goring Hotel where Kate Middleton stayed, The Dorchester and The Landmark.
The new collection also includes hotel-quality feather duvets and synthetic duvets for superb drape, warmth and comfort; plush pillows with a beautiful 100% cotton percale cover; luxury white bathrobes, towels and bath rugs.
For a fresh summer slumber, visit thebestbedlinenintheworld.com for the most comfortable night's sleep...even on the hottest nights.