Accessorise accessorise!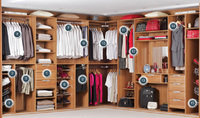 The people at Sliderobes know that maximising space and minimising clutter is key to a stylish, tidy and inviting home. Designing beautiful custom-built wardrobe solutions for the bedroom is one of the things they enjoy doing most - and the company has been having fun coming up with all sorts of accessories to make the insides just as clever and beautiful as the outsides!
The ultimate aim is to create calm, organised and fantastically up-to-date storage options! Brand new to the accessory range are shoe and trouser racks, soft-close doors, LED robe rails, a pull-out mirror and novel pull-out shirt rails. Each accessory is designed to suit you; be it the exact size for your specific clothes and linens, or shoes and handbags, everything is neat and easy to get to when the sleek, sliding doors are opened. There are even discreet LED lights so that you don't have to search in the dark!
Whether you dream of a modern walk-in dressing room or a more traditional wardrobe, in any shape or size, there is a style and accessory to suit all tastes and no space is too awkward. Choose from finishes including modern high-gloss orange and jet black, or classic white and smoky ash wood.
The creative designers at Sliderobes will guide you through every step of the process - from planning and visualising the final look using award-winning 3D software, to attentive aftercare to ensure every design detail is approved.
If it is not convenient for you to visit a store, a Sliderobes designer will visit your home, at a time to suit you, for a free, no-obligation design appointment to discuss requirements. For more information about Sliderobes, visit sliderobes.com.