Chesterton Gibraltar supports Kilimanjaro charity climb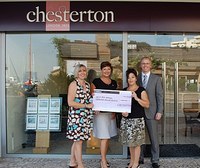 Quest Insurance finance director Liz Quinn, and finance manager Kerry Peters are set to climb Mount Kilimanjaro in just under two weeks time for charity. Help for Heroes and The Gibraltar Society for Cancer Relief will share equally all monies raised from their adventure.
So far, nearly £20,000 has been raised from friends, colleagues and businesses for these worthwhile causes. Chesterton contributed £1,000, with their MD, Mike Nicholls commenting "We had no hesitation in supporting this most worthy and challenging charitable venture. Channelling some of our gains from our continued success in the Gibraltar property market to worthy causes is one of our missions."
Liz Quinn was confident they were ready "We have been up and down the Mediterranean Steps near daily for some weeks now. We are as ready as we can be for the 6 day climb. We are so grateful to Chesterton and all of our other sponsors. The support from everyone has been tremendous. We just hope all of our hard training pays off and we report back in 3 weeks time with mission accomplished." With the summit just shy of 6,000 metres above sea level, we wish them well.
For more information, visit: chesterton.gi