Steel band set to bring the Caribbean to Gibraltar's Ocean Village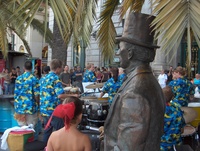 Denmark may be far from tropical, yet it has produced one of the finest steel bands on the circuit – the "Steel Hammers". Having toured across Europe, the 12-piece ensemble will be bringing a flavour of the Caribbean to Gibraltar's Ocean Village on Monday 18 July at 9pm. Make your way to Leisure Island and let your imagination drift off to a sun-soaked Caribbean Island…
Hailing from the Allerød Music School, in a small Danish town just north of Copenhagen, the Steel Hammers are a young, energetic group with an average age of just 26. Covering a wide repertoire of calypso, cha cha, mambo and more, you'll recognise some of your favourites from Santana to Stevie Wonder and even Jean-Michel Jarre played out on authentic acoustic steel drums.
As audiences in Berlin, Munich, Rotterdam, Paris, Nice, Barcelona, Verona, Florence and Málaga will testify, it's almost impossible not to move your feet to the contagious beats of the Steel Hammers. The atmosphere is warm and sociable and, the more you dance, the better they play.
For further information on this Caribbean Evening with the Steel Hammers, keep an eye on Ocean Village's Official FaceBook Group - facebook.com/OceanVillageGibraltarOFFICIAL or follow on Twitter twitter.com/#!/OceanVillageGib.