Polar cruise operator offers commemorative expedition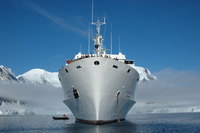 Leading Polar cruise operator, One Ocean Expeditions is proud to sponsor an extraordinary expedition in which the last wish of world-renowned polar adventurer, Frank Wild, to be buried alongside his 'boss' and loyal friend, notorious fellow explorer, Sir Ernest Shackleton, will be carried out at the whalers' graveyard in Grytviken, South Georgia, a British overseas territory in the southern Atlantic Ocean.
The special 18-night commemorative voyage to transport Wild's ashes to South Georgia, takes place exactly 90 years after his last voyage with Shackleton in 1921, and is only possible following a seven-year-long research journey by South African author and polar expert, Angie Butler, who discovered Wild's ashes in Johannesburg. Wild's wish to be buried bedside Shackleton never materialised due to the outbreak of WWII a week after his death.
Among the confirmed guests on the Frank Wild Expedition to South Georgia, is the Honorable Alexandra Shackleton, Sir Ernest's grand-daughter, and six members of Wild's family.
Angie Butler, whose recently released book, The Quest For Frank Wild, features exclusive publication of his original memoirs covering four expeditions including those on the Nimrod and Endurance, will also be joining the cruise as a guest speaker.
Passengers on the once-in-a-lifetime voyage will depart Ushuaia, the world's southern-most city in Argentina on 20 November 2011 on board One Ocean Expeditions' impressive ice-strengthened ship, Akademik Ioffe.
Designed for Polar Research and combining modern comforts and superb amenities with first-class safety features, the ship will chart a course through the Beagle Channel towards the Falkland Islands, where the first planned shore excursion aims to reveal a profusion of seabirds and migratory birds, including the black-browed albatross.
Other highlights of the West Falkland Archipelago may also include bustling rookeries of rare rockhopper penguins, nesting Magellanic penguins, oystercatchers and the flightless steamer duck, followed by a stop in the islands' charming capital, Stanley, with its brightly painted houses and fascinating history.
During the journey southeast towards South Georgia, passengers will be able to fill their time by scanning the horizon in search of whales and other marine mammals, as well as seabirds. There will also be the opportunity to hear more about the heroic expeditions of the earliest daredevil explorers and to learn about polar conservation, a subject close to the hearts of One Ocean Expeditions.
Majestic glacier-covered mountains herald the Ioffe's arrival at the rugged island of South Georgia, where visitors are greeted by the staggering sight of hundreds of thousands of king penguins covering every inch of the shoreline.
It is here that the two friends, adventurers and polar explorers, Wild and Shackleton, will finally be reunited during a ceremony at the whalers' graveyard in Grytviken.
Crossing the Scotia Sea towards Antarctica, ice and weather conditions permitting, passengers will visit the South Orkney Islands, often shrouded in mist and protected by large icebergs and sea ice, and later Elephant Island, which was a place of refuge in 1916 for Shackleton, Wild and crew after their ship was destroyed by pack ice.
Finally, the South Shetland Islands and Antarctic mainland reward visitors with a plethora of wildlife and awe-inspiring scenery from Adélie, chinstrap and gentoo penguins torpedoing through the water, predatory leopard seals and gentle humpback whales, to thousands of colossal icebergs and seemingly endless ice sheets.
Departure date: 20 November - 8 December 2011
The 18-night Frank Wild Commemorative Expedition includes all meals and accommodation plus Zodiac excursions and landings. The One Ocean Expeditions team includes hospitality staff, guides, historians, naturalists, kayak expedition leaders and experts in the Antarctic, all of who bring a wealth of knowledge, experience and fun to the voyage. Prices start from US $12990 per person based on twin share, from $10290pp for triple share and from $16200pp in a One Ocean Suite. For further information, visit oneoceanexpeditions.com.