Sailors paddle for survival in Gibraltar's Cardboard Boat Race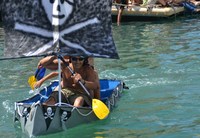 The now infamous annual Ocean Village-sponsored Cardboard Boat Race took place on Saturday 3 September under bright blue skies. The soggy sailors battled the calm marina waters in front of a large animated crowd with their varying degrees of success providing an entertaining spectacle.
Prior to the races, the lovingly crafted cardboard vessels were displayed in Casemates Square before being carried down to the launch site at the Ocean Village Marina to be scrupulously inspected by the judges. After all borderline cases were deemed fit for entry by the stringent evaluators, the fleet went under starter's orders.
The junior race was an exciting and close fought affair with the 'The Paint Shop' craft winning out to the junior 'O'Reilly's' boat. The senior event was even more eventful with spectacular sinkings at launch, however the coveted 'Titanic Sinking' prize was secured by the Molinary & Robert vessel that sank so gracefully and conclusively on the outward leg.
There was a terrific senior race between the one-man senior 'O'Reilly's' boat and the magnificent seven-man 'The Camel Says' craft in which the former won out in an exciting photo finish. 'Scooby Snacks' nabbed the 'Most Original Boat' award but sank unceremoniously at the start whilst 'The Most Creatively Dressed' team award went to J P Haulage, another sinking victim early on in the race.
Miss Gibraltar, Michelle Gillingwater Pedersen, was on hand to present the various prizes and awards to the intrepid sailors.
To ensure that even the tiniest of tots were kept entertained before and between races, Leisure Island was transformed into a children's activity area. The bouncy castle was in huge demand and the colouring competition and treasure hunt also proved to be ever popular. Miss Gibraltar in-trainings were treated to mini makeovers while the boys seemed more interested in chatting with Captain Jack Sparrow who was on a recruiting mission for mini pirates. Phil Valverdi provided the commentary and music.
The event, organized by the William Tilley Lodge, raised money for Down's Syndrome and the GBC Open Day Charity.
To stay up to date with events at Ocean Village keep an eye on Ocean Village's Official FaceBook Group - facebook.com/OceanVillageGibraltarOFFICIAL or follow us on Twitter twitter.com/#!/OceanVillageGib.