Best of British shipbuilding graces Gibraltar's Ocean Village Marina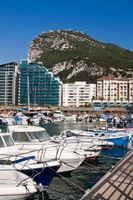 When 78-metre Samar was commissioned, she was the largest yacht to be built in the UK since Her Majesty's Yacht Britannia was launched back in 1953. Gibraltar's Ocean Village ensured that she received a warm British welcome commensurate with her roots when she stopped by at the Marina for provisioning and tax-free fuel this week.
Coming out of Falmouth-based Devonport Yachts' shipyard in 2006, Samar is the epitome of a luxurious megayacht. Amply accommodating an owners' party of 12 across seven staterooms, including a master suite located independently on the main deck, she also has quarters for a crew of 26 ensuring the maximum pamper factor for all onboard.
Some of Samar's most striking features include a touch-and-go helipad aft of the upper deck that has been designed to house a Bell 407 helicopter with refuelling facilities (and curiously a MINI Cooper Cabriolet) plus a cinema salon, fully fitted gymnasium and sauna and both a Jacuzzi and cool swimming pools forward on the upper deck. The superyacht also boasts an elevator giving easy access to four of the five decks.
Inside Samar is ornate and opulent and gives some clue to the identity of owner who is said to be Kuwait-resident Kutayba Yusuf Ahmed Alghanim, Chairman of Alghanim Industries. One of the largest privately owned companies in the Gulf with operations in 40 countries, Algahnim Industries is a multi-billion dollar conglomerate which keeps its Chairman in sufficient wealth to fund such luxuries as Samar – a yacht that he named after his fortunate daughter.
Something Samar does not fall short on is tenders and toys. A quick glance at her credentials and you will see three Chris Craft powerboats, including a 36 foot Corsair suitable for overnighters, two Nautica RIBs, SeaDoo jetskis, ocean kayaks, Laser sailing dinghies, Hummer mountain bikes, diving and snorkelling gear, wakeboards, towable inflatables, fishing gear and the list goes on. Everything is neatly stowed in either the unique aft garage wet dock or one of the two side tender garages.
With a top speed of 17 knots, a cruising speed of 12 knots and a range of over 5,000 nautical miles, Samar is ideal for exploring the world and you can test her out personally by chartering her for the princely sum of 675,000 euros per week with Edmiston Yachts (edmistoncompany.com).
Meanwhile, as Samar languishes at number 76 in the list of the world's 100 largest yachts, Devonport Yachts is once again breaking records with the launch of Vava II. Formerly known as Devonport Shipyard Project 55, this 96-metre yacht had been shrouded in secrecy until her christening on 10 September this year. The largest ever private motoryacht to be built in the UK, Vava II is now completing sea trials before her official delivery later this year.
The daily rate for a Samar-sized berth at Ocean Village is £4 per metre. A 20% discount is available for annual bookings when paid in advance in full. Occupiers of Berths will also receive an 'Ocean Village Premier Card' offering crews concessions in certain stores, eateries, the Health Club and more to reward them for their loyalty.
For further information on berths at Ocean Village, visit oceanvillage.gi.