Brits go crazy for posh loo roll this festive season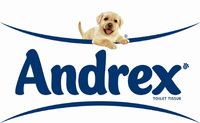 With Christmas celebrations under our belt and preparations for New Year's Eve well underway, one room in the house that we definitely aren't neglecting is the loo according to the nation's most loved toilet tissue brand Andrex.
Not only are Brits stocking up on party favours, fireworks and champagne, we're also looking for little things to make a difference to our homes during the festive season. Andrex has seen an incredible 50% rise in sales of premium toilet tissue in the run up to Christmas and New Year, selling more of its luxury variants than at any other time of the year.
But interestingly it seems that the posh loo roll is all about keeping up appearances. An Andrex survey*, that sought to understand more about festive toilet tissue buying behaviour, found that over half (52%) only use their luxury buys in the downstairs loo with the aim of showing off to guests on Christmas Day!
The survey, conducted by OnePoll for Andrex, went on to find that that despite the recent success of the McFly boys, the lovable TOWIE star Mark Wright will enjoy one final flush of success. He tops the list for the celebrity bathroom Brits would most like to spend a penny in (25%); we wonder whether a blinged-up bathroom in Essex lives up to leaves and a longdrop in the jungle.
Keeping up bathroom appearances is not restricted to the ladies, as men are just as likely to spend more on pretty toilet tissue during the festive period (30%). Whether they're trying to impress the in-laws, panic buying or simply because they have good taste, British men are definitely going plush before they flush this New Year.
Buying a premium toilet tissue is a little thing to accessorise your home over the festive period. Choose from a selection of luxurious toilet tissues from Andrex including Limited Collections, Gorgeous Comfort, A Touch Of Luxury and Skin Kind. They guarantee to impress your guests and help make your home sparkle this Christmas and New Year. Available at all major retailers.
*Survey conducted with OnePoll in December 2011. Sample size of 1,000 people in the UK