Teak tiles - Innovative tiles from William Garvey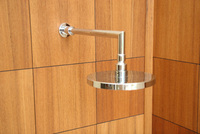 Utilising more than 40 years' experience in creating wooden products that are suitable for use in wet situations, William Garvey Ltd's revolutionary new teak tiles empower the designer to incorporate wood within interiors in a simple way, with dramatic results.
Teak tiles are as hardwearing and easy to clean as a ceramic tile but easier to fit and infinitely more stylish."Noting the increased popularity of wet-rooms, we believe that teak is a naturally beautiful and warm surface finish, which is perfect for wet-room applications as well as regular showers, backsplashes, kitchens or anywhere that a tile covering is required," comments Bill Garvey, founder and head designer of Devon-based William Garvey Ltd.
If you have ever struggled with messy grout - which is hard to keep clean - you will also appreciate the easy and hygienic installation of these clever tiles. The combination of accurate sizing (+/- 0.5mm) and interlocking joints means the tiles slot together quickly and easily, without grout.
"The use of wood within the bathroom is on the rise and teak is perfect for use within wet environments giving a warm and natural look to the space. Teak has its own unique qualities and works in harmony with stone and glass making it an excellent choice for those wanting to create a relaxed contemporary interior. Whilst wood works well within both bath and shower rooms we are also seeing a growing trend in the use of freestanding baths within bedrooms. Where possible, placing a freestanding bath in the bedroom will give the room a luxurious touch whilst also freeing up space within the bathroom itself." William Garvey
The tiles are available in the following standard sizes - 234 x 234cm, 234 x 117cm and 117 x 117cm - while bespoke tiles can be made to any size from 6 x 6 to 250 x 120cm. Price: £141 per sq metre. Tiles trims - edge and corner, £40.78 per metre.
For further information, visit williamgarvey.co.uk.