Lonely Planet reviewers place Brazil's Ponta Negra in number one spot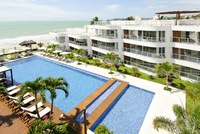 Users of independent travel guide website Lonely Planet have voted a visit to Ponta Negra number one out of a huge 654 "things to do in the northeast" of Brazil. Probably the most famous beach in Natal, this 3km stretch of hotels, restaurants, beach bars and surfers has an infectious energy that's hard to resist and local Brazil agent uv10.com is able to offer an investment opportunity just ten minutes from the action – Dunas de Cotovelo.
Samantha Gore, Sales Manager for uv10.com comments, "I am not surprised that Ponta Negra claims the Lonely Planet top spot as it conveys the perfect package of white sand, reliable surf, stunning dunes and a lively youthful nightlife. Real estate around this area is really popular and, if close to the beach, often comes at a high price. With Dunas de Cotovelo you have a 100% frontline beach resort that is of the highest quality I have seen in five years of on-the-ground sales in the region. The project is completed and on a very quiet beach yet just 20 minutes drive to the airport and ten minutes to Ponta Negra itself, part of the city of Natal. Dunas de Cotovelo has attracted some high profile buyers from well-known international sportspeople to singers and TV stars, but with prices from around £97,400 pounds for a two bedroom two bathroom property you don't require a celebrity-sized wallet to buy here."
Ponta Negra is just one Brazilian suburb that is basking in the comfort of a nation brimming with confidence and promise. The Association of Foreign Investors in Real Estate put Brazil in number two spot for capital appreciation in its 20th annual survey out this year, rising from fourth place in 2011. Explanatory factors for this leap include the tourism boom, growing amounts of cash in the middle class to purchase new build homes and all-important FIFA World Cup and Olympic hosting duties around the corner. The economy is pretty impressive too.
A huge commodity producing nation, Brazil's economy is predicted to have grown by 3% in 2011 and experts forecast 3.5% for 2012, although Brazil's President Dilma Rousseff is hoping for a more impressive 5%. This comes on the back of news that the Bank of England has slashed its growth forecast for Britain and only predicts stagnation until the middle of 2012, with just 1% growth for the year as a whole – half its previous prediction – as Britain remains embroiled in the Eurozone debt crisis. Whilst Brazil is used to beating the Europeans at football, it's the first time its economy has followed suit.
On the Market - Dunas de Cotovelo, nr Ponta Negra, Northeast Brazil
Tipped to be one of uv10's hottest investments for 2012, Dunas de Cotovelo is a best-of-both-worlds apart-hotel, of a four-star plus standard. Investors can purchase a super-high spec, fully-furnished beachfront apartment with luxury hotel services and then earn rental income if they choose to place the property under the resort's hotel management, where they can enjoy net rental returns that go up steadily year on year.
Just 20 minutes drive south from Natal's International Airport and ten minutes from Natal city's most famous beach and shopping area, Ponta Negra, Dunas de Cotovelo comprises 64 sea-front apartments arranged around a central swimming pool area. The resort was designed by renowned architects to sit in harmony with the surrounding white sand dunes and deep blue sea. The beach is one of the most beautiful in the region and is so quiet it has an almost private feel.
Aside from direct beach access, attractive on-site features include a fully equipped gymnasium and state-of-the-art steam room, massage and treatment area, bar and restaurant, adults and children's swimming pools, cable TV and wi-fi in the lounge areas and business centre, private off-street parking and garaging and 24 hour security and reception, where they will be happy to book everything from hire cars and dune buggy rides to fishing trips and tables at the best restaurants. Apartments benefit from lift access between floors, wi-fi access in all properties and communal areas, SKY TV and air conditioning. Most apartments enjoy panoramic swimming pool and ocean views.
Prices start from 279,000 Brazilian Reais (approx 97,401 GBP) for a 61.5m² built two en-suite bedroom apartment complete with terrace, finished and ready-to-go. Developer finance is available for up to four years at a fixed interest rate of 12% per year. Owners can benefit from hotel rental income at a rate of 25% (net) of rack rate room price (which works out at around 60% of the average nightly rental considering tour operator rates etc). Whilst contracted to Dunas de Cotovelo's hotel management programme, owners will not have to concern themselves with condo fees, utility bills, cleaning, laundry, repairs and maintenance – including replacement furniture if required – as this is all handled at the hotel's expense. The only costs payable in addition are taxes on rental income plus costs incurred during personal use of the apartment such as food, beverages (at discounted rates for owners) and utilities (water/electricity).
For further information, visit uv10.com.