Carlo Colombo's Skidoo Tap Series for Teuco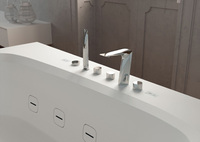 Inspired by the iconic Flat Iron building in New York, Carlo Colombo's Skidoo Tap Series for Teuco brings an architectural charm to any bathroom or en-suite setting.
The name was chosen for anecdotal reasons ...
When Flat Iron was initially built in 1902, it created the phenomenon of unpredictable wind-currents which blew up the dresses of lady passers-by!
Such Marilyn Monroe moments regularly led to a surge of onlookers and, so the story goes, the Manhattan police were obliged to intervene, shouting "Skidoo, Skidoo" ("Move along! Move along!").
Available in chromium, the Skidoo collection comprises bath-taps (rim-mounted and floor-standing), basin and bidet versions and an eye-catching shower-totem.
For more information, visit teuco.com.