Thin by Azzurra - Wall-hung and back-to-wall wcs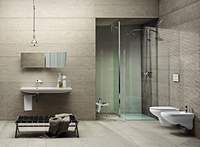 Not only does the design of multi award-winning Thin embody cool, contemporary chic thanks to revolutionary ultra-fine ceramic-moulding techniques (hence the name!) but its development signals a world-first in ecological terms.
Reflecting the increasingly important concept of eco~luxury, Azzurra Ceramica worked alongside Angeletti Ruzza to launch a collection which illustrates how being environmentally responsible and resources-aware no longer means sacrificing ergonomics or aesthetics.
Each of the collection's 5 wall-hung and back-to-wall wcs features a complete single-flush mechanism which, even on standard plumbing systems, uses a mere 2.7 litres of water to achieve optimal full-flush-efficiency. In comparison, a standard wc generally operates using over twice this volume, using 6 litres on average, even to dispose of one single sheet of toilet tissue!
Azzurra Ceramica is part of the exclusive Alchemy Design Award Programme: alchemyaward.com.