Bring London's iconic landscape into the kitchen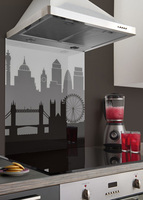 The silhouette of London's iconic landscape has been fashionably captured in this new limited edition Cityscape splashback from the CP Group's Enki Hot Trend collection.
Designed to pay homage to our cool London landscape, this new Enki glass splashback makes the most of the latest interior design trend for iconic British architecture and is bound to make a monochromatic style statement.
Launched just in time to commemorate the London Olympic Games 2012, Enki Cityscape features a print of the City's most recognisable buildings including Tower Bridge, St Pauls Cathedral, the Gherkin, Big Ben and the London Eye in a sophisticated colour palette of charcoal, silver and black for a splashback design with an urban edge.
Jayne Adamson, Product Manager at the CP Group says: "While this Cityscape splashback was created to mark the Olympics Games next year, the iconic London silhouette is so recognisable to us Brits, it makes it a timeless design classic too. Urban themed prints have become massively popular in home interiors recently and with each Enki splashback so easy to fit, Cityscape makes for a quick and easy style update in any kitchen."
Following in the footsteps of the hugely popular Kate & Wills and Spots & Stripe splashbacks, Cityscape is a limited edition in the Enki Hot Trend collection. Created to capture the most popular looks in interior design, the Hot Trend collection aims to launch a new design every few months with this London skyline being the latest in vogue pattern.
Providing an instant update to kitchen walls in need of some tender loving care, you can fit any Enki splashback in just three simple steps. Each splashback is supplied with a self-adhesive backing for ease of use-all you have to do is peel the backing, stick the splashback to a flat wall and use a silicone sealant around the edges to create a whole new look.
The Enki Hot Trend Cityscape splashback is available in 60cm x 70cm and comes with a range of complementary 14cm x 100cm upstands for that finishing touch.
The full Enki collection now offers 30 different glass splashbacks and is available from leading independent retailers across the UK.
For further information, visit cpgroupuk.com.