Caledonian Bathroom Pods make a big splash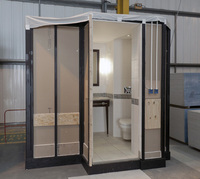 Just months after its launch Caledonian Bathroom Pods is celebrating several project success stories. Set up by offsite construction specialists Caledonian Modular, the new Bathroom Pods division has already won its first orders to factory-produce bathroom pods for a luxury Apart-Hotel, and for two Holiday Inn Express projects, having gained approved supplier status for Intercontinental Hotel Group.
Bathroom pods for the luxury Apart-Hotel for the Supercity Group were delivered into Central London during January 2012. The project comprised 62 high-specification bathroom and shower room pods, built and completely fitted-out on new quality-assured production lines at Caledonian's operating centre in Newark, Nottinghamshire. The pods are designed to be craned directly from the delivery vehicle onto a temporary platform on the external face of the building at each floor level, from where they are manoeuvred across the floor slab into their final position. Mains services are then simply connected to the service riser to allow the pods to be commissioned, often on the same day as delivery.
Jayne Gray, Director of Caledonian Bathroom Pods, comments: "The Supercity project perfectly demonstrates the capabilities of Caledonian Bathroom Pods. We are delighted to have started this new venture with such a demanding and prestigious project and thank the Supercity Group for their faith in our team."
Kevin Clarke, Business Development Manager for Caledonian Bathroom Pods, added: "As a major player in the offsite construction market Caledonian brings some surety and governance to the recently volatile pod market, and as such has been welcomed by clients and contractors alike. The Supercity contract has given us a fantastic platform from which to build, while the Holiday Inn Express projects demonstrate our ability to deliver high end projects in a very competitive arena." The first of the two Holiday Inn Express projects is for main contractor Vascroft Contracts for an extension to the Holiday Inn Express at Earls Court in London. The second is for main contractor Willmott Dixon Interiors for an extension to the South Wimbledon Holiday Inn Express. At the time of reporting both are on schedule for deliveries to suit site programmes through February and March.
Caledonian bathroom pods are manufactured utilising a welded hollow section steel frame which can be designed to bespoke sizes and differing floor depths to suit individual contract specifications. Caledonian fits out the pods with specified sanitary ware and 'wet area' if required, wall and floor tiles, and electrical and plumbing fixings ready for minimum connections on site. By completing all the building and finishing trades in one efficient assembly line Caledonian significantly reduces time and risk of delays on site, along with all the other benefits of offsite construction from minimising and recycling waste to reducing vehicle movements on site. As Jayne Gray goes on to say: "Our clients get the twin certainties of guaranteed quality and earliest completion to start earning revenue."
For further information, visit caledonianbathroompods.com.