Impressive stone baths and basins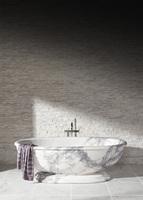 The Mandarin Stone Bathware Collection has been considerably extended. Uniquely designed stone basins together with impressive stone baths make the ultimate statement in the bathroom. Skilfully carved from single pieces of stone and often combing texture with sleek lines, their distinctive, natural look will never fail to impress.
Stone Baths
These have been sourced to offer the ultimate in bathroom luxury. Exquisitely beautiful, if you are thinking of incorporating one of these into your bathroom project - plan ahead as these are extremely heavy! Two designs are available in various stones, other stones and bath designs can be sourced on request.
Calacatta Viola Honed Marble Vesta Bath costs £13,140.00. On the walls is White Quartzite Maxi Splitface which costs £57.46 per sqm. Plumbing accessories are available and are sold separately.
Stone Basins
Mandarin Stone's range of stone basins has been considerably extended to include floor-standing basins (Cosmo & Apollo) and textured stone basins (Lunar & Pebble). All avaialble in a selection of different stone shades, these skilfully carved pieces will never fail to impress.
'Cosmo' basins, available in various stone shades, the wild and wonderful 'Picasso' travertine is shown here and costs £834 each.
Pebble Basin, made from a stone bolder therefore each one is completely unique! £354 each. Roane Quartzite Maxi Splitface on wall, £57.46 per sqm
Mandarin Stone offer an unparalleled selection of natural stone for the home and garden. Stones include limestone, marble, slate,travertine, granite, sandstone, terracotta and basalt in an array of formats and finishes, including bathware and mosaics. They have recently introduced a range of Italian Porcelain tiles. With nine UK showrooms and having been established for 20 years, they pride themselves on offering sound design and technical advice and virtually all stones can be delivered within short time-frames. Classic Ranges start from just £15 per sqm.
For further information, visit mandarinstone.com.