Go digital with Gainsborough Showers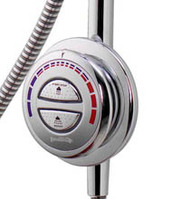 Online shower superstars Gainsborough has launched two digital showers. Featuring one-touch, start/stop controls, perfect thermostatic temperatures and compatibility with virtually all types of home plumbing systems, Gainsborough Digital Showers are ideal for everyone – and nearly every bathroom.
Unlike a conventional shower with a 'mechanical' valve, Gainsborough Digital Showers are controlled by a compact processor. Smaller than a shoebox, this clever processor is the nerve centre of the shower and is installed away from the bathroom. Typical places might be an airing cupboard, under the bath or in the loft and it is this 'remote' siting that makes Gainsborough Digital Showers such a spot-on choice for new bathrooms and bathroom refurbishments alike.
Positioned in a convenient location to hot and cold water supplies, the processor box thermostatically blends water to your pre-set temperature. But best of all, because the processor is outside of your bathroom, it is likely that installation will be significantly easier and quicker. In fact, a Gainsborough Digital Shower could be up and running in as little as a few hours, with very little disruption to your bathroom's tiling or décor.
Meanwhile, in the showering area itself, there are no bulky or awkward controls to get to grips with. Just a simple push button start/stop control. Temperature is selected with an equally straightforward sliding ring. And best of all, thanks to the clever LED display that is a feature of Gainsborough Digital Showers, you'll know exactly when to step into your shower.
All you have to do is keep an eye on the LED display; when it's flashing the water is still warming up. When the display turns to steady, you'll know it's time to shower. Nothing could be simpler or safer. No tentative testing of your shower's temperature with your hand or foot, no chilly surprises and no fluctuating between hot and cold, either. For these reasons, Gainsborough Digital Showers are ideal for family bathrooms and even better for bathrooms used by children or the more vulnerable.
Gainsborough Digital Showers are suitable for gravity-fed, combi and mains-fed plumbing systems. For gravity-fed systems, it is recommended a pumped Gainsborough Digital Shower is chosen – this variant features a processor with an integral pump and has a 'boost' button on its control – essential for making the most of gravity-fed plumbing systems. It is available directly from Gainsborough Showers and costs £599.00.
The Gainsborough Digital Shower for mains-fed and combi plumbing systems is also available online directly from Gainsborough Showers and costs £499.00. Both Gainsborough Digital Showers include free delivery and next-day dispatch.