New eco-luxe, drop a dress size retreat for New You Boot Camp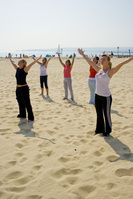 New You Boot Camp has teamed up with award-winning eco-luxe destination AlmaVerde Village & Spa, in the Western Algarve of Portugal, to deliver our unique weight loss and fitness boot camps.
AlmaVerde Village & Spa is Europe's leading eco-luxe destination, with 18 international awards for design, innovation and sustainability. Its villas combine traditional, natural materials with innovative systems to deliver year-round thermal comfort at low energy cost.
Guided by an ethos of harmonious, sustainable living, New You Boot Camp's Eco-Luxe Portugal Retreat: at AlmaVerde Village & Spa offers an unparalleled range of facilities for our boot camp programmes that will put you on the path to discover a New You, increase your fitness levels, lose weight as well as develop confidence that you can transfer into all you do once you leave.
Set in lush Mediterranean gardens, with panoramic views of the surrounding countryside, each Alma Verde villa is built, furnished and equipped to the highest standard, and includes its own private, heated swimming pool. With easy access to the pristine golden beaches of the vast Costa Vicentina Natural Park Alma Verde is ideally located for an unforgettable boot camp get-away.
The days are broken up into sessions on site, on the beach, and will include sessions from the famous New You Boot Camp Military fitness programme. Throughout the week you will also be taken off site to enjoy hikes and mountain biking in the motivational and inspiring surroundings this area has to offer.
At the end of a challenging day, Boot Campers can relax and unwind their tired muscles at the beautiful Wellness day spa at AlmaVerde on site that offers a range of treatments and therapies.
What's Included
10-12 hours per day intense physical training.
Outdoor adventure training such as full day hikes and half day cycling.
Access to private wellness spa in evenings.
Leading Nutritionist will be onsite for lectures, workshops and private one to ones.
You will be following the New You Boot Camps Exclusive Therapeutic Nutritional Programme during your stay.
Opportunity to have a goal setting and personal one to one with trainer to work on individual training plan.
Complete body analysis to enable the team to provide you with real, honest advice and education on how to lose weight (not water!)
All food, drinks and training are included.
There are no hidden costs.
Pick up and drop off from Faro Airport on arrival and departure day at specified time.
Visit newyoubootcamp.com for more information.