HTC Wildfire creates world's largest 'birthday toast'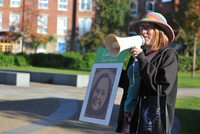 As part of the HTC Wildfire Experience, Laura Hadland, 27, of Cambridge, got to make her dream come true – making the world's largest toast mosaic birthday card - with a little help from her BFFs (Best Facebook Friends) and HTC, a global designer of smartphones.
Consisting of 128.05 square metres and 600 loaves of lovingly browned and scorched bread, the toast mosaic birthday card was in honour of Laura's mother-in-law and was assembled as part of the HTC Wildfire Experience - a unique social network experience which brought together virtual friends in the real world to have fun and turn a dream into reality.
The toast mosaic card was officially named the world's largest at 5:30 pm on Sunday, 17th October 2010 by Guinness World Records Adjudicator Claire Burgess, beating the previous record set earlier this year in Eindhoven, the Netherlands.
It depicts Sandra Whitfield, Laura's mother-in-law, who celebrated her 50th birthday Sunday being "toasted" by Laura and friends at the Pyramid and Parr Hall in Warrington. The toast was made up in three different shades and laid into Sandra's likeness over a period of seven hours.
Leftover bread from the toast mosaic creation was donated to the Warrington Salvation Army on behalf of HTC, along with the toasters used to make the "tiles".
Laura said: "I'm thrilled that my best mates in real and in virtual life were able to come together and make our mark on history, while celebrating Sandra's birthday at the same time – it's a birthday card like no other. It's a treat for Sandra made with much love and a sense of randomness. She's certainly not a stereotypical mother in law, she's one of my best friends and I love her. As a museum curator, I spend lots of time with Roman mosaics so it was great fun to make a modern one out of my favourite food. Big thanks to HTC Wildfire for making this happen – as well as making history, I was able to connect with lots of old friends and meet some virtual ones in the flesh for the first time."
Mrs Whitfield, a divorced mother of two, cried with joy when she saw the unusual birthday gift. She said: "It was certainly a massive shock. I love toast but it feels very strange seeing my face made out of it. I'm really overwhelmed because they have gone to so much effort. Laura really is the best daughter in law you could wish for. It's been the best birthday present ever and I'm now a world record holder which I'd never have predicted."
Captain Paul Fisher of the Salvation Army said, "The donation of bread is gratefully received - it will really benefit the homeless people of Warrington during our winter tea and toast mornings."
Florian Seiche, President, HTC EMEA, commented, "At HTC we believe the best things in life are experienced, not explained. Creating unique experiences for the HTC community was a natural way to bring that philosophy to life – and we managed to set a world record too. We're pleased that Laura and her friends had such a great time – bringing friends together is what the HTC Wildfire is all about."