Travellers can save £100's on data roaming with Globalgig hotspot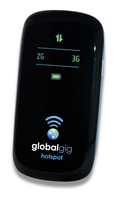 Globalgig offers global mobile data from just 2p/MB and the biggest expansion of countries to date offering consumers '1 plan with 1 price in 36 countries'.
Consumers can choose how much data they want, for how long they want it – and then, within their plan, receive no further bill, regardless of how many Globalgig countries they visit.
Globalgig also announces the launch of its brand new SIM only service for tablets and 3G devices.
Globalgig's international Wi-Fi device and SIM-only service operates in 36 countries including key holiday and travel destinations such as, Spain, Italy, Portugal and France – all with absolutely NO roaming charges.
Globalgig is the only company to offer genuine value for money data roaming packages and with Globalgig's connectivity from country to country, travellers can stay switched on for just 2p per MB (from £20 per month for 1GB). Plans up to 5GB are offered for those who travel regularly or use large amounts of data. Customers will choose the price and the plan they want and it will work across all countries in the Globalgig network – at home and abroad.
Globalgig's hotspot device connects up to 5 devices simultaneously (mobile phone, laptop and tablet) or the new SIM only option for tablets or 3G devices allows customers to have their own personal hotspot.
This unique service means that customers no longer need to worry about racking up huge data bills when travelling abroad. Globalgig puts customers in control of their mobile data bill by eliminating the huge costs normally associated with data roaming.
Nigel Bramwell, Chief Executive Officer at Voiamo, the company behind Globalgig says, "For the first time, customers DON'T need to change their behaviour when they travel. They DON'T need to turn their tablets or laptops into dumb, unconnected machines, useful only as drinks trays. With our new plans and much expanded network, geographical borders no longer matter for mobile data plans".
With Globalgig's array of 1 to 12 monthly contract plans there is no need to subscribe to a long-term contract and there are no hidden charges.
Globalgig will now operate in: UK, USA, Australia, New Zealand, Spain, Portugal, Italy, France, Republic of Ireland, Hong Kong, Sweden, Denmark, Austria, Belgium, Bulgaria, Croatia, Cyprus, Czech Republic, Estonia, Finland, Germany, Greece, Hungary, Iceland, Latvia, Lithuania, Luxembourg, Malta, Norway, Netherlands, Poland, Romania, Turkey, Slovakia and Slovenia.
Globalgig launched in November 2012 in the UK, Australia and USA to rave reviews that described it as "a game changer", signaling a "revolutionary end to excessive data roaming charges." In March the Republic of Ireland, Hong Kong, Denmark and Sweden were added to the network. The latest expansion and product development is the latest in a host of exciting new progressions for the brand.

For more information, visit uk.globalgig.com.